OPITO FOET (Further Offshore Emergency Training) is the refresher course of OPITO BOSIET. This training course is designed in order to refresh the theoretical and practical knowledge of the various aspects, gained during the BOSIET. Main disciplines are basic safety, basic medical knowledge, survival at sea and firefighting. The FOET is approved by OPITO. The FOET BOSIET is particularly meant for personnel working worldwide in the offshore oil and gas industry.
Timetable:

1 day(s)

Certification:

OPITO FOET (5858)

Validation:

4 years

Requirements:

A valid (tropical) BOSIET or (tropical) FOET certificate (3 month window prior expiry) or a valid NOGEPA 0.5A or NOGEPA 0.5B certificate
* excl. Registration costs OPITO (€ / $ 30,00), excl. VAT (If applicable) and including lunch, coffee / tea and course material
More information about OPITO FOET with EBS (5858)
The FOET certificate is valid for 4 years. Refresher must take place before the expiry date.
Course content:
HUET (Helicopter Underwater Escape Training)
Sea Survival and First Aid
Fire Fighting and Self Rescue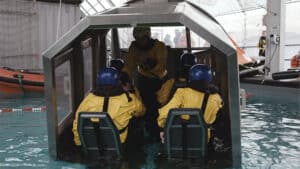 Use the "Book" button below to go to our booking form to book the course. In case of questions, you can call us on +31(0)85 – 130 74 61 or contact us via our contact form.
Book
Risk free:
Up to 24 hours in advance
free cancellation, no prepayment required
Certified OPITO, NOGEPA, GWO
and STCW courses
Unique locations at the most convenient places around the world
Training when it suits you