Training location FMTC Dordrecht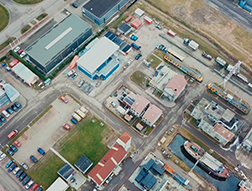 Safety courses at FMTC Dordrecht
FMTC (Fire and Medical Training Centre) has 4 training locations in the Netherlands, including Dordrecht, Rotterdam region. We provide Offshore courses (OPITO & NOGEPA), Wind courses (GWO), Maritime courses (STCW) and Industry courses. In the spring of 2017 FMTC entered into a cooperation with the South-Holland South safety region and that's why FMTC is located at the  Spinel Safety Centre in Dordrecht, where course delegates use the various facilities during their training sessions.
FMTC safety training at Spinel
Spinel Safety Centre, located at Spinel 100 on the Dordtse Kill III industrial estate, is the official regional training area for fire brigades and crisis partners. The location has numerous realistic training objects, including a ship and a church tower for training at heights. FMTC training location Dordrecht is located in the vicinity of the port of Rotterdam. The practical part of the STCW and NOGEPA sailing training is carried out at our location Lage Zwaluwe. Of course, FMTC provides transport from Dordrecht to and from the port of Lage Zwaluwe to participate in the practical part of one of the safety training courses.
Training location OPITO, NOGEPA, GWO, STCW
FMTC Safety Dordrecht is recognised in the offshore industry by NOGEPA & OPITO and for the wind courses by GWO (Global Wind Organisation). FMTC Dordrecht also has approvals for the maritime sector; worldwide certified STCW training for the shipping industry.
FMTC Dordrecht training centre facilities
In addition to all our classrooms for theoretical subjects, we at FMTC Dordrecht make use of:
Various fire objects, including a ship, an industry hall and a OGS (accident prevention dangerous substances) container.
Swimming pool with HUET (Helicopter Underwater Escape Training).
Confined space equipment.
Church tower, for working at heights.
Various boats (including survival craft and fast rescue boat).
More information about FMTC Dordrecht?
Would you like to know more about this location or about our Offshore trainings (OPITO & NOGEPA), Wind trainings (GWO), Maritime trainings (STCW) and Industry trainings? Or are you looking for a tailor-made training course? Call +31(0)85 – 130 74 61 directly or send a message to info@fmtcsafety.com.
Accommodation
Are you taking part in a multi-day training course? Then we offer an FMTC hotel package in the immediate vicinity of our training centre. Training with overnight stays in the 3-star hotel Postillion Dordrecht, in the Apollo Hotel Papendrecht, the Bastion Hotel Dordrecht or in the Bilderberg Parkhotel in Rotterdam. This can be added directly to the booking form when booking your training course.