Training location FMTC IJmuiden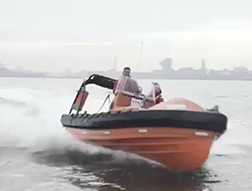 Boat course FMTC IJmuiden
As a Fire and Medical Training Centre, we provide certified safety training in the Netherlands; Offshore training (OPITO & NOGEPA), Wind training (GWO), Maritime training (STCW) and Industry training. The practical part of the NOGEPA and STCW sailing training courses for FMTC students who train at FMTC Schiphol Amsterdam takes place from the IJmuiden marina.
IJmuiden seaport boat safety training courses
In the marina on the Kennemerboulevard in IJmuiden, we have various vessels at our disposal to organise realistic training courses. Think of parts from the NOGEPA and STCW, for which we use a survival craft and a fast rescue boat. The port of IJmuiden is not far from our training location at Schiphol. It goes without saying that we provide all delegates of the practical training course on the water with the transport of the delegates between Schiphol and IJmuiden. The delegates do not have to worry about this. The fact that we are 'unique in terms of customer focus' is also immediately noticeable here.
The courses below will take place at our location in IJmuiden
More information about FMTC IJmuiden
Are you interested in participating in one of the FMTC safety training courses from IJmuiden and Schiphol? We will be happy to help you further. Call +31(0)20 – 811 43 32 or send an e-mail to info@fmtcsafety.com. Our service-oriented staff are available daily between 7:00 and 18:00. Flexibility and service are paramount. This applies to all our training courses, at all training locations.