GWO Working at Heights removed as prerequisite for GWO Sea Survival
18 April 2023

Via this way we want to inform you about another change made by GWO about the prerequisite for participation in the GWO Sea Survival training.

GWO has decided to remove the GWO Working at Heights as a prerequisite for participation in the GWO Sea Survival Training. This will go in effect on 2nd May.

If you have booked one or more GWO Sea Survival Training modules starting before May 2nd, please note that the current prerequisite – a valid GWO Working at Heights certificate – is still in effect. After May 2nd a valid GWO Working at Heights certificate is no longer applicable to participate in the GWO Sea Survival training.
Background about the decisions made by GWO
BST Sea Survival V16.1 introduced a prerequisite to have a valid Working at Heights record (WaH).The prerequisite was recommended by the V16.1 Sea Survival working group because "focus in the transfer training must be on following the correct procedures and conduct safe transfer (not to practice and learn Working at Heights abilities)", and that some Working at Heights abilities are necessary tools to conduct safe transfer using SRL and twin fall arrest lanyards safely – both in real work environment and during training – but are not part of the Sea Survival syllabus.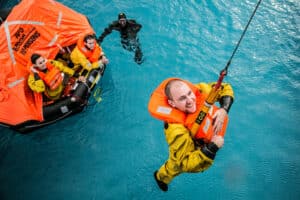 However, the prerequisite has created a number of practical, operational concerns for members. It introduced an inflexibility in booking courses for all technicians, and WaH is not considered a necessary safety training for several job roles attending this training (such as floating solar, bird counters, boat / CTV Crews). The Training Committee has, in a recent retrospective meeting recognised it had not considered the practical implications of bringing in WaH as prerequisite, and have gained a better understanding of both risks and the target audience groups using this module.
Source and more information click here!
Although, the decision to remove the prerequisite was made by GWO, we apologize for all the inconvenience this may have cost for the operation in the project(s) you work on.
If you have any questions about this update, please don't hesitate to contact us via info@fmtcsafety.com or call +31 (0) 85 – 130 74 61..
Back to the overview