NEW: The Advantages of FMTC Safety's Blended Learning
11 May 2023

Continuing education is essential for personal and professional growth. But, traditional classroom settings can be time-consuming and expensive. This is where Blended learning comes in. With FMTC Safety's online courses, you can learn at your own pace, at a time and place that suits you. In this article, we'll explore the benefits of e-learning and how FMTC Safety's courses can help you achieve your educational goals.

Differences

FMTC Safety knows how valuable time can be. That's why we work with Blended Learning. Our blended learnings are different from regular e-learning; with us, you complete the theory part of your GWO, OPITO and/or NOGEPA course at your own pace at home and come to one of our many locations to complete the practical part. Unlike e-learning, where you do everything online and can complete the entire course at your own pace. But what exactly are the benefits of blended learning?

Flexible Learning

One of the main benefits of e-learning is flexibility. With FMTC Safety's online courses, you can learn from anywhere, at any time. This means that you can fit your learning around your work and personal commitments. You won't have to miss out on learning opportunities because of scheduling conflicts.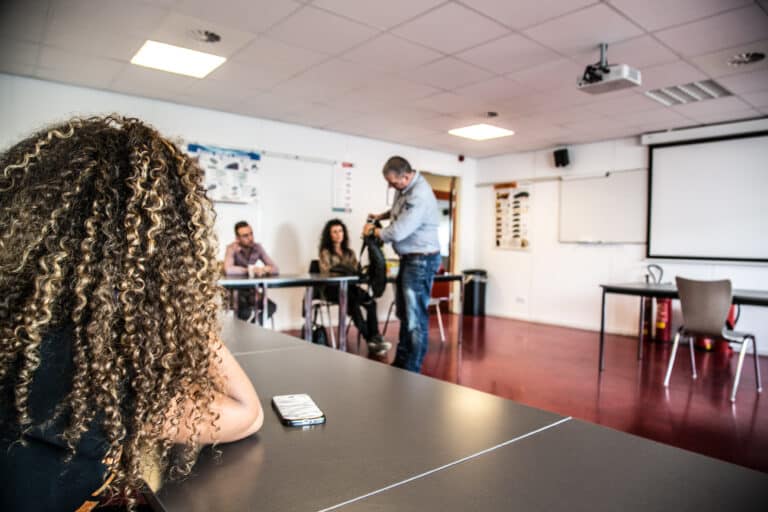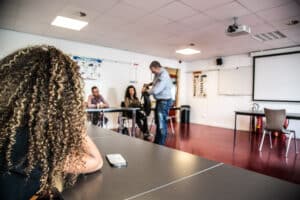 Cost-effective
Blended learning, with its combination of online and in-person training, can offer a cost-efficient solution for companies seeking to provide training to their employees. One example of blended learning is the GWO Basic Safety training course offered by FMTC. This course allows participants to complete the theory modules online, at their own pace, before attending the practical modules in person. By utilizing online training modules, companies can save on travel and accommodation expenses for their employees. In addition, the flexibility of e-learning can reduce the need for costly overtime or temporary staffing. By combining the cost-efficiency of online training with the practical experience of in-person training, blended learning can offer a high-quality, yet affordable training solution for businesses.
Expert Instructors
Expert instructors play a crucial role in ensuring the success of you GWO, OPITO and/or NOGEPA program, and FMTC Safety's blended learning courses are no exception. While the online theory part of the course is self-paced and without direct instruction from an expert, the practical aspect is taught in-person by experienced instructors who have a deep understanding of the material. This hybrid approach allows students to learn at their own pace while still receiving personalized guidance and feedback during the practical portion of the course. By combining the flexibility of e-learning with the expertise of in-person instruction, FMTC Safety provides a comprehensive and effective training experience for all participants.
Location-Based Training
After completing an blended course with FMTC Safety, you will still need to come to our location to complete your practical training. However, since you have already completed a portion of the course online, you will only need to be physically present for a shorter duration. FMTC Safety has locations throughout the world, making it easy for you to complete your practical training.
Certification
FMTC Safety offers e-learning courses in various fields such as GWO, NOGEPA, and OPITO. After completing an E-learning course, you will receive a certificate of completion that is recognized worldwide. This certification can help you advance your career and increase your earning potential.
E-learning with FMTC Safety offers numerous benefits such as flexibility, cost-effectiveness, time-saving, expert instruction, location-based training, and certification. Whether you're an individual looking to expand your skill set or a business looking to provide training for your employees, FMTC Safety's e-learning courses are the perfect solution. Start your e-learning journey today and take advantage of the many benefits that FMTC Safety has to offer.
Back to the overview