Training Location at FMTC Houma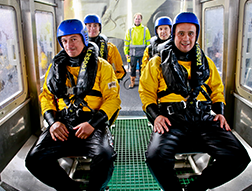 Safetycourses at FMTC Safety Houma
Our organization specializes in providing quality safety training; Offshore training (OPITO) ,  Wind courses (GWO) and Industry courses (OSHA). We offer these Internationally accredited safety training courses in Houma, LA (USA). A favorable location, in the middle of the oil and gas production areas of the US.
FMTC Safety and On-Site Training
From now on On-Site Training & Instruction is FMTC Safety Houma. On-Site Training was an American company that, just like FMTC Safety, was specialized in offering safety training. After years of partnership, we were ready for the next step. With this take-over, we are able to train even more delegates and provide more services to our customers. We provide from now on more courses than ever and will further expand our services for our delegates.
Customer satisfaction
In Houma, our team is ready to implement our 'one stop shop in safety training' concept and will aim for 100% customer satisfaction according to our usual standards:
Train whenever it suits you. FMTC Safety course schedules are flexible and will adjust the day and time to your wishes.
Training always take place. FMTC Safety guarantees training, without requiring a minimum of participants.
Professional instructors. All of the instructors have the required certifications and broad practical experience that allows them to train you in the best way possible.
Book risk free. No costs for cancellations or changing your booking.
More information about FMTC Safety Houma
Are you interested in undertaking one of our training courses at FMTC Houma? We will be happy to help you. Visit our website and book directly or call +1 985 217 9284, or send an email to info.houma@fmtcsafety.com.
Our service-minded team is ready every day to assist in any way possible. Flexibility and customer service are paramount in all our courses, at all training locations.
Travel Accommodations in Houma
The closest International Airports are New Orleans and Houston. Houma is approximately 1 hour from the Louis Armstrong International Airport in New Orleans.
At all of our training locations we offer delegates the possibility to use an FMTC hotel package. These are excellent hotels, which we book for you at a reduced rate. Please contact us if you would like to know more about the accommodation options or book directly in the booking form of your course online.