Training location FMTC Rotterdam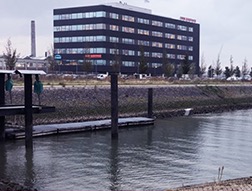 Boat courses at FMTC Rotterdam
As a Fire and Medical Training Centre, we provide certified safety training in the Netherlands, Offshore training (OPITO & NOGEPA), Wind training (GWO), Maritime training (STCW) and Industry training. The practical part of the boat courses, booked at our location FMTC Dordrecht, takes place in the port of Rotterdam. From our training centre in Dordrecht, we provide boat training in the Waalhaven in Rotterdam.
NOGEPA and STCWBoat courses Waalhaven Rotterdam
We have opened a new FMTC location in the Waalhaven on the Maasoever. At this location we have several vessels at our disposal to organize realistic training courses. Think of parts from the NOGEPA and STCW courses, for which we use a survival craft and a fast rescue boat. FMTC training location Dordrecht (Spinel Veiligheidscentrum) is located in the vicinity of the Rotterdam Waalhaven. Of course, as soon as a practical part of a training course has to take place on the water, FMTC will take care of the transport of the delegates to and from the Waalhaven in Rotterdam. The delegates do not have to worry about that. We are 'unique in customer focus' and that translates directly into practice.
The courses below will take place at our location in Rotterdam:
More information about FMTC Rotterdam?
Are you interested in participating in one of the FMTC safety training courses from Rotterdam and Dordrecht? We are happy to help you. Call +31(0)85 – 130 74 61 or send an e-mail to info@fmtcsafety.com. Our service-oriented staff are available daily between 7:00 and 18:00. Flexibility and service are paramount. This applies to all our training courses, at all training locations.